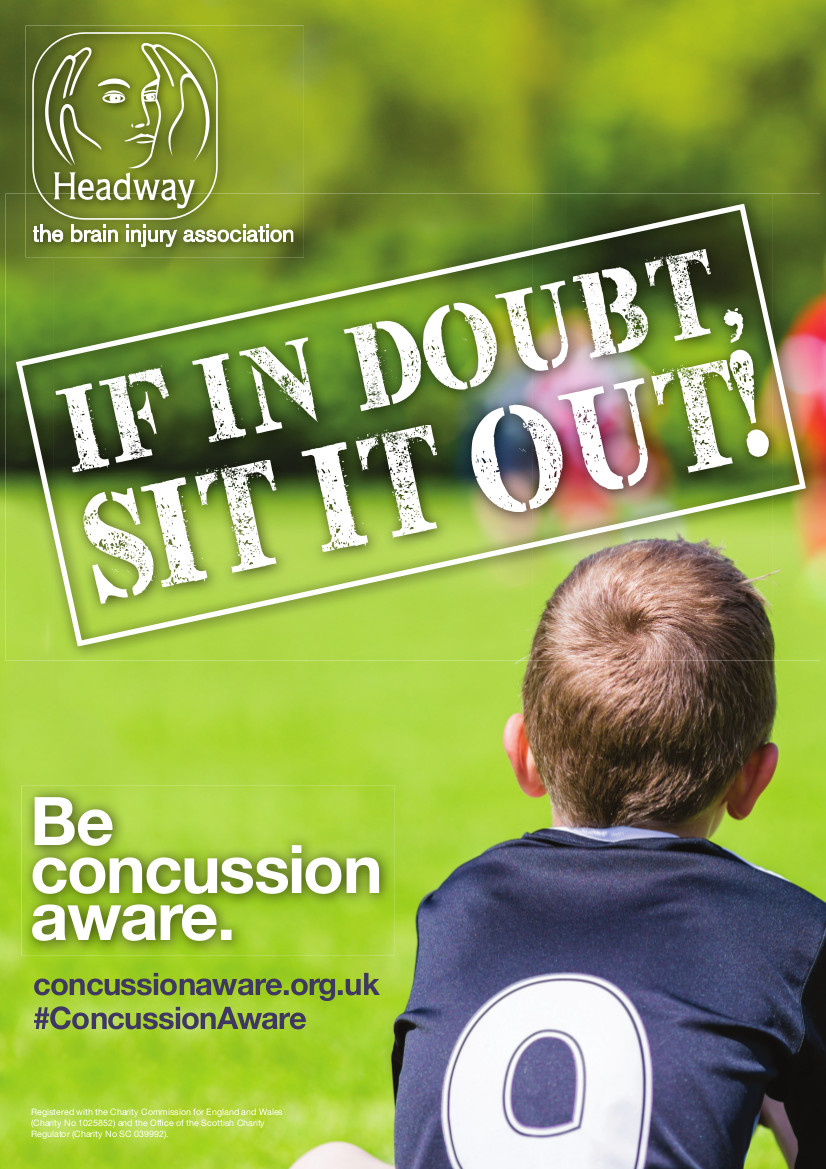 04/05/2016
Charity to launch concussion campaign
A Worcestershire brain injury charity is set to ask local sports clubs to 'be concussion aware' as part of a new national campaign to be launched in May.
Headway Worcestershire, which supports local people affected by brain injury, will launch the Concussion Aware campaign during Action for Brain Injury Week, which takes place from 9-15 May.
"Sport plays a key role in keeping us fit and healthy," said Mel Akers, Chief Executive of Headway Worcestershire. "At Headway, we want to ensure that everyone is able to enjoy sport, while being better protected from the risks of concussion.
"A great deal has been achieved in the past few years to improve concussion protocols, with the emphasis being placed on elite-level sport to set a good example for others to follow.
"But we believe everyone who plays sport should be concussion aware – particularly those at grassroots level who are playing purely for the love of it and do not have ambulances and doctors on standby should something go wrong.
"We hope that through this campaign, we can encourage sports clubs, schools, colleges and universities in our region to ensure their members or pupils are aware of concussion and sign up to an 'if in doubt, sit it out' approach."
When the campaign is officially launched in May, sports clubs and academic institutions will have access to a range of materials, including a factsheet giving advice about concussion, posters to display both online and in changing rooms, and a digital stamp to demonstrate the club has adopted a responsible approach to concussion.
In the meantime, Headway Worcestershire is inviting sports clubs to register interest in supporting the campaign or fundraising for the charity during Action for Brain Injury Week.
For further information on the campaign, visit www.concussionaware.org.uk or to find out how you can support Headway Worcestershire during Action for Brain Injury Week and beyond, call 01905 729 729 or e-mail jprotesaru@hwtl.org.uk
About Headway Worcestershire
Headway Worcestershire – provides support, services and information to brain injury survivors, their families and carers, as well as to professionals in the health and legal fields. We are one of the 100+ groups and branches, affiliated to Headway UK – The brain injury association. Headway Worcestershire has been running for over 25 years, and provides services to over 300 people every year.
Key facts
Acquired brain injury (ABI) is an umbrella term for any injury to the brain sustained since birth, excluding neurodegenerative conditions.
The most common forms of ABI are traumatic brain injury (TBI) and stroke. Other causes include brain tumour, meningitis, aneurysm, haemorrhage, encephalitis, anoxia, and other conditions.
The brain controls everything we do and brain injury can affect every aspect of who we are. The physical, cognitive, emotional and behavioural effects of ABI can have devastating consequences for individuals and their families.
Approximately 1,000 people acquire brain injuries every year in Worcestershire
There were 348,934 UK admissions to hospital with acquired brain injury in 2013-14. That is 566 admissions per 100,000 of the population.
ABI admissions in the UK increased by 10% between 2005-6 and 2013-14.
There were approximately 956 ABI admissions per day to UK hospitals in 2013-14 – or one every 90 seconds.
In 2013-14, there were 162,544 admissions for head injury. That equates to 445 every day, or one every three minutes.
Men are 1.6 times more likely than women to be admitted for head injury. However, female head injury admissions have risen 24% since 2005-6.
In 2013-14, there were 130,551 UK admissions for stroke. That is an increase of 9% since 2005-6 and equates to one every four minutes.