It is one of those things that seems to be a great injustice in the aftermath of a brain injury, we the patients are the ones being told how brave we are, how well we're handling the situation, the loss and how hard it must be to come to terms with an entirely new sense of self. That is not to say that this praise is undeserved, it isn't. All of those things are true, we do have to deal with all of that. What people seem to forget though, is that there is no way we could do it alone.
I believe that just as much credit should go to the people who have volunteered their time to help their fellow man, to aiding the vulnerable and the week. This post is a shout out to all of those people who perform that difficult task, day in, day out, of looking after a loved one after a life changing injury or illness. Some people do it as an occupation, being dedicated to the job. Others do it out of love for a family member, a friend or a partner. Then, there are the people who do it purely because they have to. All of you, regardless of your motives, are doing an incredible thing and have my utmost respect.

Commitment & Reliability
Now, I realise I am a little strange emotionally, I have never understood the kind of love that is shown to me by my parents who take it upon themselves to look after me and care for me every day. Maybe because I've never experienced doing the same for someone else as they have (that's probably likely). If there is one thing I can always rely on it is their constant presence. That presence is a great comfort to me particularly in times of hardship. From the times they have comforted me when I've been upset, to the various meetings they have attended with me across the breadth of the South of England, they have always been there. It is this kind of commitment that I'm talking about when I refer to carers, for which they deserve so much more credit than they actually get. This post is to celebrate Carers Rights Day but for me, a day does not even come close to doing justice to the job they have committed to.
Never Getting A Break
I suppose it is partly down to that sense of reliability and commitment that is so important to the carer-patient relationship that, very rarely, do the carers get a break from their duties. In my house, the relationship between patient and carer and parent and child are one and the same. This has meant, that since I suffered my brain injury, my parents have not been able to relax at all. If I go for a night out with friends, I have to ring my parents to let them know that I'm okay. Even this can cause them to panic. Ever since they received that phone call six years ago, informing them that all of our lives had changed forever, not only can they not sleep if I am not in the house, but every time the phone goes, my dad says his heart jumps into his mouth.
It is not only important to bring up the stresses that affect my parents while they carry out their caring duties, it is also important to highlight the need for rest. Holidays are becoming increasingly important, particularly in the current climate where work seems to be taking over our lives. It is important for people to escape the stresses of everyday life such as work, responsibilities at home and, importantly for couples, to spend quality time together alone.
For my parents, the prospect of a holiday further away than an hour or two's drive from Dorset has become something close to a dream. For carers to be able to have a rest, take a break and enjoy themselves is key to maintaining a healthy relationship between patient and carer. If you are in need of support or are looking for private companies involved in care work, there are an abundance of charities available that can point you in the right direction (I tend to stick with the three I know the most about: Headway UK, UKABIF, and The Child's Brain Injury Trust).
Sacrifice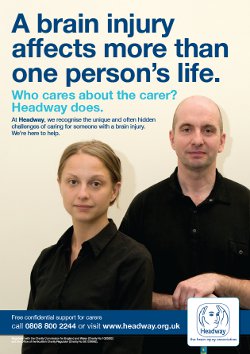 The final thing I'm going to touch upon is the element of sacrifice in the life of the carer. People forget that with the commitment they display, the reliability they show, and the general goodness in their hearts that those caring for the disabled are often required to give up a lot. So not only do they have to come to terms with the emotional damage and loss they have suffered as a result of a loved one being injured, not only do they have to care for a loved one who cannot care for themselves, but often they will have to do those things at the expense of something else.
To give you an example, when I suffered my brain injury, my mother and father had just moved to a quiet seaside town where my father was eagerly anticipating the freedom of his recent retirement. Freedom he planned to spend fishing from the beaches and walking the local countryside. Instead, what he got was the task of caring for a 20-year-old young man who could not look after himself. Where I was supposed to be going to university, my parents had not taken into account the financial cost of having me at home. As such, my father had to get a job working at one of the local seaside holiday camps, working late nights and early mornings to make sure he was home during the day to look after me. This is the kind of sacrifice I'm talking about, sacrificing his years of freedom to take care of me, for which I can never thank him enough.
Where We Can't, You Do!
I wanted to give you some examples of the type of thing that you do for us every single day that you may think goes unnoticed. I assure you, it does not. As I said earlier, whether you see it as a sense of duty, whether you are being paid for it, or merely because there is nobody else to do it, the point is you are doing it. You are most certainly an inspiration to me and I assure you, to many others as well. You enable us to reach our full potential and help us to reach goals we would not be able to dream of if it weren't for people like you, doing what you do, every single day. The truth is, and I said it earlier, a day is simply not enough time to give you the credit you deserve for the outstanding job that you do. Thank you.
About the author
My life was changed for ever on the 30th of August 2009 when an attack on a night out left me with sever brain injuries. I was left in an induced come after suffering fractures to the skull, bleeds on the brain, as well as severe bruising to the frontal lobes. Since the injury I have found it hard to find and keep work, to maintain relationships, and generally stay positive. I have decided to share all of my journey with you, in the hope we can bring brain injury awareness to the level it should be at. Please, follow my own WordPress blog Life After Brain Injury  to keep up to date with my brain injury journey! Follow me on Twitter:  @ABIBlogger

Tom Massey, ABI Blogger
Helpful notes regarding this article:
Our support groups opened for people with ABI and carers run once a month, one in Pershore, one in Bromsgrove. For information on this, please send an e-mail to jfreeman@hwtl.org.uk
The Day Opportunities Centres in Worcester, Kidderminster and Bromsgrove provide the carers with  a break from it all when they get the chance to take a few hours away from the responsibility, knowing their loved one is under expert supervision and takes part in rehabilitation and social activities. If you are interested in this opportunity please drop us an e-mail on enquiries@hwtl.org.uk or phone us on 01905 729 729.
Health Unlocked Headway Community – An online forum where people with ABI and their cares and families can chat and share experiences
Care and family support links approved by Headway UK